It's always a good place to put one's biases up front … I don't like sweet wines. Sadly, a lot of Riesling's from many places fall into this category, resulting in me going largely off Reisling. Greg, a friend at work recommended I give Alsace Rieslings at try. Alsace is a region right near the border of France and Germany. I recently was perusing the WineAlign limited time offer list and found this one. Every month the LCBO "feature" certain wines at a discounted price, kinda like a sale. So I thought ok no better time than now to test Greg's recommendation. Interestingly my gf seems to like Greg's recent recommendations … hmmm. I digress … Pale in color with an interesting nose, straight out of the fridge it was quite mild, as it warmed up the scents started to become more boisterous. Lots of floral notes, some minerality, a hint of honey suckle all come up to greet the nose. Quite inviting … on the mid palate the wine displays some noticeable honey suckle, some nice minerality and some citrus notes. On the medium length finish the wine's vibrant acidity coats the mouth leaving a nice citrus note. The wine has a slightly syrupy texture to it, noticeable mostly on the finish. This wine has some nice mouth grip and can hold it's own with a lot of food. I paired it with a shrimp and scallop fettuccine alfredo and it went well. It's super food friendly. I would have to say … Greg's right, I liked it 🙁 Wahhhhh I would give it an 88 or so, which for the price is a good deal. Grab some while the LTO is on! I bet it will easily keep for a while! At 5g/l residual sugar, it's nice and dry!
From the LCBO web site: Check Stock
Riesling
750 mL bottle | VINTAGES#: 11452$17.95$19.95 Save $2.00 Limited Time Offer
Until October 13, 2019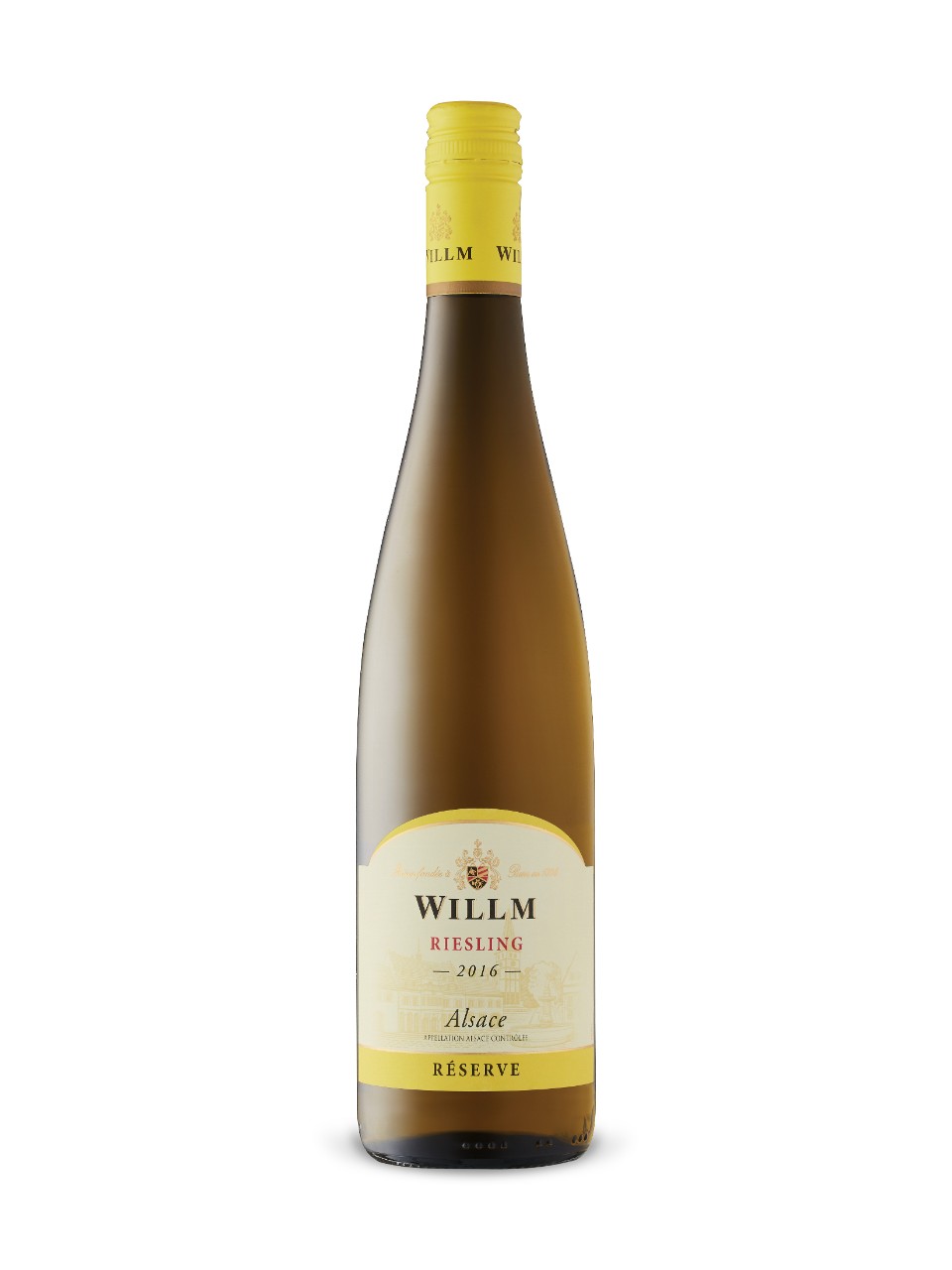 Think Riesling is always sweet? Think again. Rieslings from Alsace, like this classic, are often bone dry. This features aromas and flavours of lime juice, peach and mineral. The ultimate food wine. Pair with grilled shrimp and pesto pasta, or gourmet sausages.
PRODUCT DETAILS
Release Date:April 3, 2019Bottle Size:750 mL bottleAlcohol/Vol:12%Made In:Alsace, FranceBy:A. WillmSugar Content:5 g/LSweetness Descriptor:XD – Extra DryStyle:Aromatic & FlavourfulVarietal:Riesling